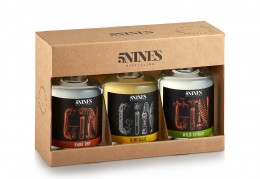 Back
Gin Gift Pack - Citrus Selection
A beautifully gift boxed set of our citrus gins. Rare Dry, Gincello and Wild Citrus.
This pack contains a fun mix of gins for every mood. Our Rare Dry is ideal for a G&T or even a Martini, the Wild Citrus a marvelous cocktail and the Gincello makes a really easy cocktail. An ideal way to be a little self indulgent and try all of our favourite gins. You'll soon work out which are your favourites so you can buy the full sized bottles.
This pack contains 3 x 200ml bottles.