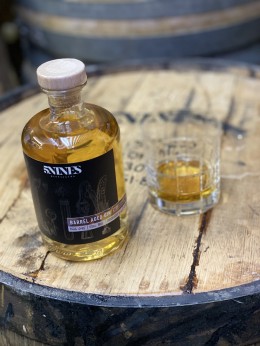 Back
Barrel Aged Gin
We approached the Distillers' Release gin series with an idea to push boundaries; experimenting with flavours and seasonal ingredients to create profiles that ignite the imagination. We use a blend of the base liquor and Mount Lofty spring water, gently infusing it with a unique range of seasonal botanicals foraged locally and from around the globe.
Our barrel aged Gin has been aged in an American oak ex apera barrel (Australia's answer to sherry). It is lusciously sweet and complex. A limited edition gin never able to be repeated.
Ideal neat (with or without ice), or mixed with your favorite tonic. You can even use our barrel aged gin in traditional whisky cocktails like an Old Fashioned for a complex, interesting tipple.
Botanical Profile
Juniper
— Fresh pine and resinous notes |
Coriander Seed
— Spice with citrus hints |
Navel Orange
— Bright citrus lift |
Mandarin
— Sweet and fruity |
Lime
— Citrus sharpness |
Native Desert Lime
— Delicate citrus sharpness |
Native pepperberry
— Spicy base notes |
Cardamom
— Aromatic and intriguing |
Angelica
— Structure and violets while allowing other aromas to linger |
Cassia
— Spicy and aromatic back notes |
Native quandong
— Unique peachy sweetness |
Sar anise
— Liquorice palate excitement |
Almond
— Nutty structure |
Cloves
— Spicy and fragrant |
Lavender
— Floral |
Samphire
— Salty and crisp
---